Courier
Monday, July 26, 2004
Mobile kitchen plays starring role on movie set
Source: The Courier Journal
By SUSAN REIGLER
"Lord of the Rings" fans know that elf warrior Legolas (played by actor Orlando Bloom) and the other members of the Fellowship of the Ring had to settle for a steady diet of lembas, the magically nutritious elven bread, on their journeys through cinematic Middle Earth.
But during the Kentucky filming of "Elizabethtown," Bloom and the rest of the location cast and crew have a considerably more varied diet.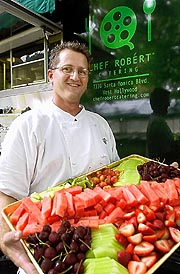 BY DURELL HALL, JR., THE C-J
Chef Robért whips up new culinary magic every day.
Thanks to the culinary magic of Hollywood-based caterer Robert Lamkin, aka Chef Robért, the menus for breakfasts and lunches on the set during the monthlong filming are different each day.
"My staff and I take pride in delivering excellent food and having fun at the same time," Lamkin said in a recent phone interview. "We'll make something individually if that's what it takes to make a cast or crew member happy."
But there's plenty of choice each day. One lunch menu last week was based on classic country fare (with a twist). The entrees were meat loaf, Tennessee oven-fried chicken with honey-butter/Tabasco drizzle ("very popular" remarked Lamkin) and pan-seared Idaho trout with mashed Yukon gold potatoes.
There was also a salad bar; sides such as sautéed corn nibblets and green bean casserole; and bundt cake, lemon bars and chocolate chip ice cream for dessert. Drinks included strawberry, mixed fruit or mango smoothies.
Lamkin and his staff whip up all these goodies in his rolling kitchen, a $250,000 customized truck outfitted with two convection ovens, a deck oven, a flat-top griddle, a steam table, a fryer and a freezer. He even travels with his own barbecue smoker.
On location in Kentucky, Lamkin has been impressed with the local suppliers, including Creation Gardens, Irish Hill Foods, Sysco Louisville Food Services and Bluefin Seafood. "It's been really refreshing to have such superior service. I've really been taken care of."
Lamkin, in turn, really takes care of the actors and crew he's feeding. He stated that he hasn't really had any special requests for this shoot. Though on another film set, "an Australian actor asked for a shrine to Vegemite."
The reviews from Chef Robért's clientele are glowing.
"All the meals were very good. Marvelous food — a salad bar to die for," said movie extra Barbara Williams of Louisville. "They even brought in a sushi bar."
Click here for list of all press items.